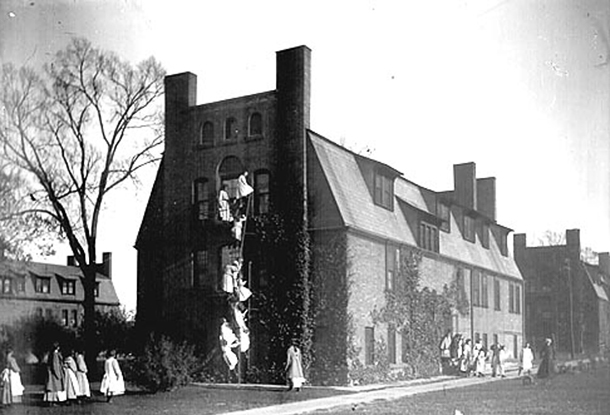 Beginning in Hudson, NY…
The Prison Public Memory Project is starting in the historic old river town of Hudson, New York in the state's scenic but struggling upper Hudson River Valley.  Since 2011, we have been working together with community members to document the intriguing history of the prison in Hudson – a prison that since the 1800's has affected thousands of lives and influenced the course of local, state and national events.
We've interviewed many Hudson area residents, including prison 'alumni'; conducted research in local and state archives; discovered dozens of fascinating old photos and maps; and written short articles based on our research. Some of this work has been or will be published on this website/blog.
Today known as Hudson Correctional Facility (HCF), a medium-secure state prison for men, the prison originally opened in 1887 as the House of Refuge for Women, the first reformatory for women in New York and the only prison for state-sentenced women at that time. It housed young women ages 15 to 30 sentenced to five-year indeterminate terms (shortened in 1899 to three years) for petit larceny, "habitual drunkenness," being "common prostitutes," and frequenting "disorderly houses." In 1904, the House of Refuge for Women closed and was transformed into The New York State Training School for Girls (1904-1975) where famed jazz singer Ella Fitzgerald and lesser known girls ages 12 – 16 found to be delinquent by the courts were sent to be protected and controlled.
The Hudson prison's history holds significant meaning for contemporary debates about penal reform, child welfare; juvenile justice; the role that race, gender, income and immigrant status play in determining what is a crime and what kind of punishment is appropriate; the role of architecture and design in rehabilitation; and the dependence of rural and small town economies on prison jobs.
For several years, Hudson Correctional Facility has been included on the list of possible state prison closures in New York.  It is still open today but community discussion of what might happen if the prison closes continues…
Working with and supporting local historians, artists, writers, and community volunteers to interpret the history and imagine the future of the Hudson prison through community conversations, exhibits, installations and community-based art practice, the Prison Public Memory Project will bring the history alive, connect the stories from the past to contemporary challenges, and give voice to people whose opinions and aspirations for their communities might go unheard through more traditional public engagement and planning forums.
We invite you to follow and join our exciting journey in Hudson!