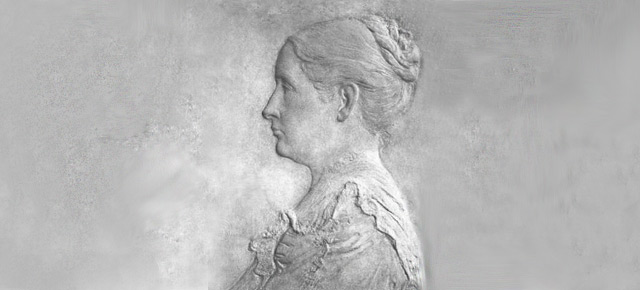 As told by Joan Waugh in her book on the life of Josephine Shaw Lowell (Unsentimental Reformer,Harvard University Press, 1997):
At noon on May 22, 1912, a granite fountain designed by the artist Charles Platt was dedicated in New York City's Bryant Park to the memory of Josephine Shaw Lowell (1843-1905), a brilliant philanthropist and social reformer whose career spanned forty years of New York history…The ceremony was witnessed by a distinguished crowd of invited guests from the worlds of charity, politics, and reform…Various speakers, as well as the newspaper reports the next day, did not fail to note that this was the city's first major public monument dedicated to a woman. Just east of the fountain a granite block was inscribed in bronze with words written by Harvard University President Charles Eliot. The words convey the high regard in which Lowell's contemporaries held her life:
This fountain commemorates
the strong and beautiful character of Josephine Shaw Lowell
(1843-1905)
Wife for one year of a patriot soldier
Widow at Twenty-one
Servant of New York State and City in their public charities
Sincere candid courageous and tender
Bringing help and hope to the fainting
And inspiring others to consecrated labors
According to Ann Cumer, Bryant Park Corporation archivist, the fountain was originally intended for Corlear's Hook Park in the Lower East Side — where Shaw Lowell had done the majority of her work — but was instead erected in Bryant Park on the east side, near the William Cullen Bryant monument, and behind the New York Public Library. As part of the 1934 Robert Moses renovation of the park it was moved to it's present location, at the west side of the park, near Sixth Avenue. Ninety-nine years after its dedication, the Josephine Shaw Lowell fountain continues to amaze and inspire New Yorkers, local news stations, and numerous park visitors, especially during colder months when the fountain is winterized and turns into a magical frozen water sculpture. In warmer moths it also serves as an ad hoc wishing well.
Every two weeks the park's Josephine Shaw Lowell Memorial Fountain is drained for routine cleaning and maintenance of its filtration system. The process includes collecting all the coins from the bottom of the fountain, tossed in by park patrons and hopefully followed by wishes come true.
Although the majority of the coins found in the fountain are U.S. pennies, along with a fair number of nickels, dimes, and quarters, there is always an interesting handful of foreign coins thrown in by Bryant Park's visitors from all corners of the world.
What happens to all the coins once they've been fished from the fountain? After a rigorous process of cleaning, drying, and sorting, they take a trip to the bank. After it is deposited, the money goes right back into the maintenance of Bryant Park.
For more information and updates on the fountain, go to the Bryant Park Blog at:  http://blog.bryantpark.org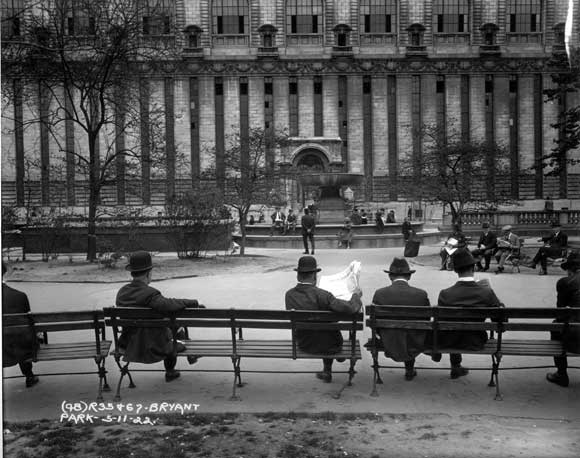 The Lowell fountain seen here in it's first location at the east end of the park, just behind the New York Public Library, 1922. Photo: NYC Transit Museum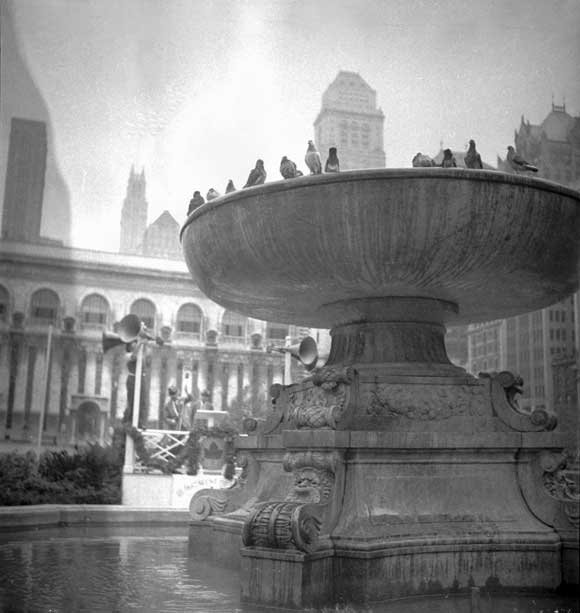 The Lowell fountain, the day of Bryant Park's re-opening after the Moses renovation, September 14, 1934. Photo: New York City Parks Photo Archive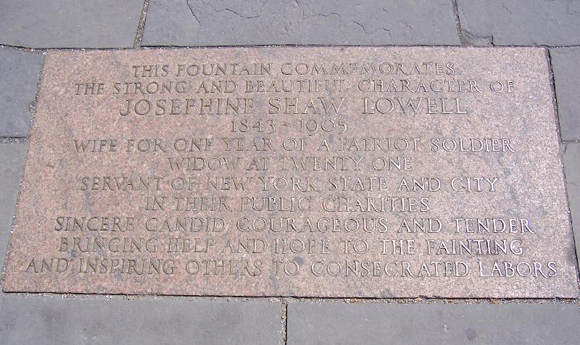 Commemorative plaque at the base of the Josephine Shaw Lowell Memorial Fountain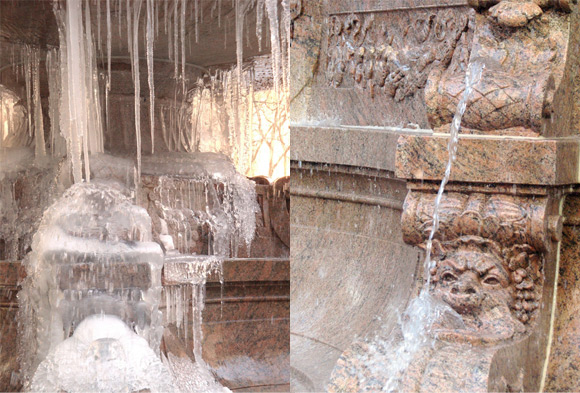 Left: Josephine Shaw Lowell Memorial Fountain in winter
Right: Detail of the Josephine Shaw Lowell Fountain (Bryant Park, Manhattan) photo by Tracy Huling (November, 2011)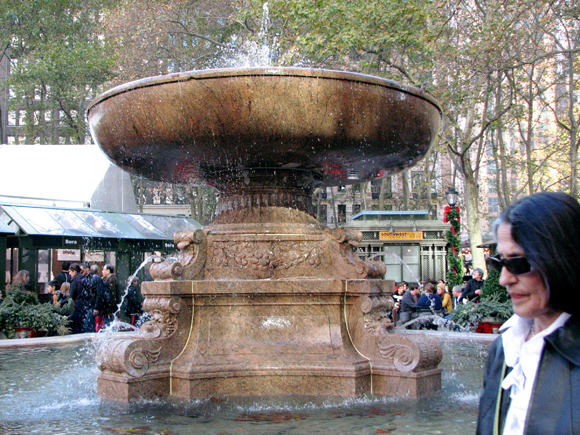 Contemporary view of the Josephine Shaw Lowell Fountain (November, 2011 photo by Tracy Huling)