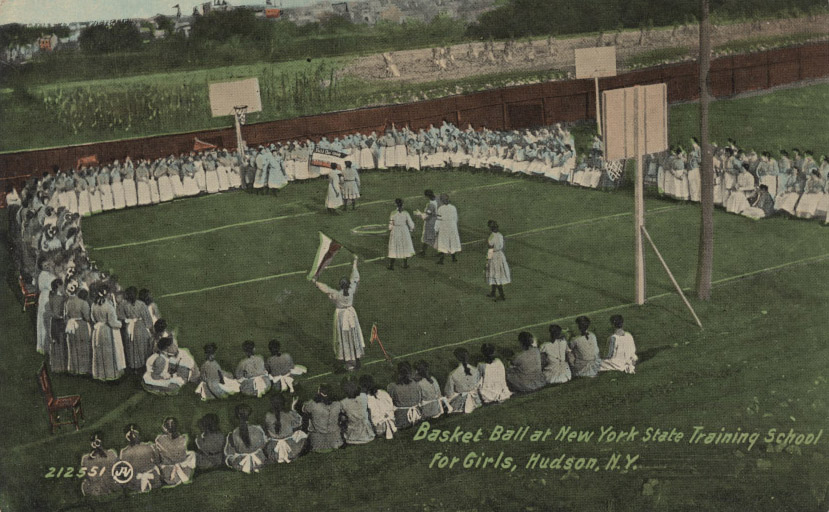 In 1904, when the New York House of Refuge for Women in Hudson, NY closed, the New York State Training School for Girls took its place to establish a separate place of confinement for "incorrigible" girls between the ages of 12 and 15 who had previously been housed with boys on Randall's Island in New York City or at the State Industrial School in Rochester. At one point the Hudson Training School held as many as 500 girls but the population declined significantly as it neared closure in 1975.
During its 70-year existence the Training School was a site for new ideas in social work, psychological assessment, and sociological research. In the late 1930's and 1940s, psychologists J. L. Moreno and Helen Jennings established a new school of psychological inquiry (sociometry) at Hudson. In the late 1950s, the sociologist Rose Giallambardo conducted a groundbreaking 10-month field study of social organization among girls and staff members at the school.
The Training School also came under close scrutiny for penal practices, including solitary confinement, judged to be harsh by standards of the day.
In the mid-1930's, a 16-year-old Ella Fitzgerald, whose famous career as a jazz singer began while she was on parole, was incarcerated at Hudson, a period of her life she never spoke about in public. In the 1960s, a New York City court sentenced a young 13-year-old girl named Shirley Wilder to Hudson, and she later became the lead plaintiff in a landmark court case bearing her name.
In 1975, the New York State Training School for Girls closed despite local community and political opposition. Most of its remaining girls returned to their homes in New York City and elsewhere. A year after its closing, the buildings on the site of the Training School were converted into a minimum (later medium) security prison for young male adults.
Photo: NY State Training School For Girls in Hudson, NY postcard. Courtesy of the Museum of disABILITY History