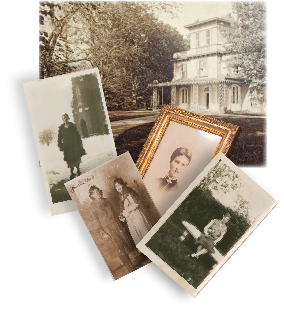 Please join the Prison Public Memory Project and Historic Hudson for "IF THESE WALLS COULD TALK…" an exploration of life inside the New York State Training School for Girls (1904-1975) in Hudson, NY, part of Path Through History weekend, June 8th and 9th. Main events will include an art installation inside several rooms at the Dr. Oliver Bronson House, a National Historic Landmark, which, beginning in the 1920's, served as a superintendent's residence, staff social space, and work site for the girls incarcerated at the Training School. The installation draws from a rich variety of historical documents and images from local collections and national sources to provide a fascinating glimpse into the stories of several young women kept at the Hudson Training School, including a young Ella Fitzgerald.
Also on the program at regular intervals throughout both days are facilitated discussion circles with Training School 'alumni' providing opportunities for guests to talk with people who lived and worked at the Training School and their family members providing an inside view of life at this historic institution and an opportunity to reflect on what has and has not changed over time in juvenile justice policy and practice. Hard copies of several annotated bibliographies of books, articles, and other sources of historical information on the Hudson Training School prepared by the Prison Public Memory Project will be available for community members and visitors interested in pursuing their own investigations.
We would like to thank Hudson resident and business owner Lisa Durfee for her gracious permission to use historical materials in her collection for the development of the art installation. And thanks to the superintendent and staff of the Hudson Correctional Facility for their support of the event.

WHAT IF THESE WALLS COULD TALK… History, Art and Dialogue about Life in a Girls' Prison
WHEN Saturday, June 8th and Sunday, June 9, 2013
TIME 10 am to 5 pm
WHERE Dr. Oliver Bronson House
50 Worth Avenue, Hudson, NY 12534
(on the grounds of Hudson Correctional Facility)
WHO Open to the Public
CHARGE No charge for admission

SUPPORTED IN PART BY FUNDS FROM


DIRECTIONS
TO GOOGLE DIRECTIONS USE ADDRESS:
Hudson Correctional Facility 50 Worth Avenue, Hudson, New York 12534
From the Thruway: Take Exit 21 and follow signs to Hudson. In Hudson,
continue to second traffic light and turn right onto Union Street. At end of
Union Street turn right onto Worth Avenue Route 9. Take first right turn
into entrance to the Hudson Correctional Facility. Drive down hill past red
barns on left. Take second right along alley of trees to house
From the Taconic: Exit at Route 82 to the Rip Van Winkle Bridge. At the
intersection of routes 82, 9, and 9H, continue on Route 9 towards Hudson.
Route 9 becomes Worth Avenue. Take left at entrance to Hudson Correctional
Facility. Drive down hill past red barns on left. Take second right along
alley of trees to house
FROM THE NORTH
On Route 9: Continue straight through the intersection of Fairview Avenue
and Green Street to Columbia Street. Turn Right onto Columbia Street. At the
fork, just before the hospital, bear left. Continue past the hospital to
three-way intersection with yellow blinking light. Bear left onto Worth
Avenue Take second right turn into entrance to the Hudson Correctional
Facility. Drive down hill past red barns on left. Take second right along
alley of trees to house
On Route 66: Continue straight through intersection with Route 23B. At the
fork, just before the hospital, bear left. Continue past the hospital to
three-way intersection with yellow blinking light. Bear left onto Worth
Avenue Take second right turn into entrance to the Hudson Correctional
Facility. Drive down hill past red barns on left. Take second right along
alley of trees to house