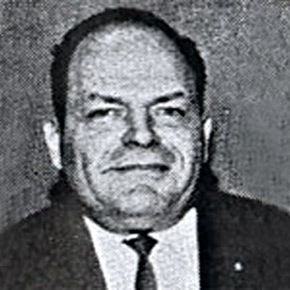 Abraham "Abe" Novick, Superintendent of the NYS Training School For Girls, 1953 to 1963
Named as a Social Work Pioneer
http://www.naswfoundation.org/pioneers/default.asp
by the National Association of Social Workers
Here is an almost-completed list of the superintendents (or wardens) of the prison in Hudson, NY from 1876 to 1990. The list goes back to the time when this prison was the House of Refuge for Women, and then the New York State Training School for Girls, and forward to its current status as a state prison for men called Hudson Correctional Facility. Can you help us fill in some of the missing names and dates? Or if we have made mistakes on the list, correct us! Please send your information through the comment section below this post.
Also, if you have photos or stories relating to these people when they served as a superintendent or warden of the Hudson prison, please let us know! Note that we are not at this time inviting stories or photos about the more current prison superintendents.
Don't forget that the Prison Public Memory Project is offering a prize to the person who has offered the most help in 2013 through this Do You Know? section of our website. The winner will be announced in December.
(Congratulations to sisters Marian Woodward and Jeanne Roetina who received a $75 gift certificate to Stoddard Corner bookstore in Hudson, NY with our appreciation for their contributions to our website's "Do You Know?" page in 2012.)
Dates Served         Name of Superintendent/Warden
House of Refuge (1876-1904)
1876 –                     Sarah V. Coon
1900 – 1904            Hortense V. Bruce, M.D.
NYS Training School for Girls ((1904-1975)
1904 – 1921            Hortense V. Bruce, M.D.
1922 – 1923            Mary Hinkley
1923 – 1937            Fannie French Morse
1937 – 1940            ?
1940 – 1952            Inez B. Patterson
1952 – 1953            Harriet W. Goldman
1953 – 1963            Abraham G. Novick
1963 – 1964            Muriel E. Jenkins (Acting Superintendent)
1964 – 1973            Thomas Tunney
1974 – 1975            George Doleschal
Hudson Correctional Facility (1976 – 1990)
1976 – 1984            Wim Van Eckeren
1984 – 1985            Martin F. Horn
1985 –                     Herbert McLaughlin